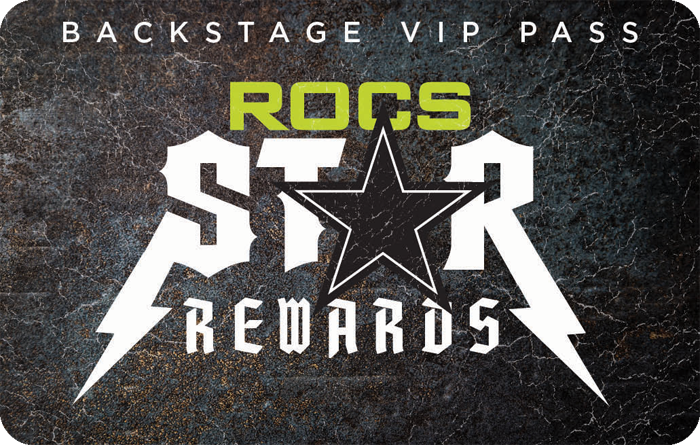 What is the ROCS Star Rewards Card?
What is the ROCS Star Rewards Card? It's a card that gives you all kinds of cool rewards, just for being a loyal customer! You can earn cents off gas, get FREE club items like coffee and fountain drinks, and receive instant savings on hundreds of items in our stores!
Is the card free? How do I register?
Yes, it's completely free! Once you have activated your card in the store, you can register online at www.ROCSStarRewards.com
How do I earn rewards?
That's the easy part - just present your card every time you make a purchase! You'll earn cents off per gallon and get on-the-spot discounts exclusively for cardholders on items throughout the store. We'll keep track of your points. Check the bottom of your receipt for your current point balance and to see how close you are to your next free item!
How do I redeem my ROCS Star Rewards?
Swipe your card at the pump and follow the instructions. The pump will tell you the amount of your savings and will ask if you want to redeem. If you do, the pump will automatically roll back to your discounted price, saving you cents off gas, up to 20 gallons! The card will also track all of your purchases and let you know when you have earned free items.
What happens if I lose my card?
As long as your card is registered, getting a new one is easy. Just pick up a new card from any ROCS location, call the number on the back and all of your rewards will be transferred to the new card.
Keep your information current!
We may need to contact you if you are having any card issues or for bonus rewards! If you have any additional questions, please see one of our friendly store associates or call Customer Service at 1-844-607-2420.
You must be 18 years of age and your card must be enrolled to be eligible for prizes. We will not share/sell ANY personal information to ANY third-party. By enrolling, you are opting in for:
-Mobile messaging-You will receive special offers and discounts from short code 313. (Average 4 messages per month)
-Email messaging- You will receive special offers and discounts. (Average 4 messages per month)